Once your baby reaches the 8 or 9 month mark, she's ready to move past single-ingredient purees and on to food combinations.  These combos can be simple, of course (mixing mashed blueberries into oatmeal, stirring pureed broccoli into brown rice, etc.)  Or, if you're feeling fancy, you can whip up more sophisticated meals.
For information on when to introduce specific fruits into your baby's diet, along with serving sizes, visit our solid food charts.
Here are 5 nutritious, tasty recipes that we think you'll love, and that are sure to be both fun to prepare and fun to eat!
For tips on how to safely and conveniently store your homemade fruit purees, visit our food storage page.
Want to make the baby food making and serving even easier? Check out our list of recommended products for tools that'll make baby feeding a breeze!
Everything You Need To Know About Starting Solids – All In One e-Book!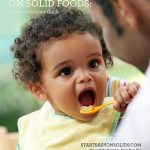 What if you could find everything you needed to know about starting your baby on solid foods – when it's best to start solids, how to introduce solids, complications, food allergies, etc. – in one easy-reference guide? Now you can! Your Baby's Start To Solid Foods: A Comprehensive Guide will walk you through every step of starting solids. Plus, your e-Book package includes several bonus materials, designed to maximize your success in starting solids. You'll get a thorough guide to treating constipation, a dietitian's advice on how to avoid 5 common solid-foods mistakes, and a weekly meal plan for your baby's first year. Grab your e-Book today, and ensure your baby has the healthiest possible start to solid foods!
What are your baby's favorite meals?  Share your recipes below!