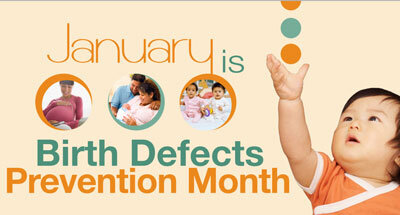 As moms, we all know that life changes the moment a woman has a baby. When Kelle Hampton headed into the delivery room and gave birth to Nella, however, the changes would be greater and more challenging than she could imagine. "I knew the minute I saw her that she had Down Syndrome and nobody else did," Kelle writes. "I held her and cried. Cried and panned the room to meet eyes with anyone that would tell me she didn't have it. I held her and looked at her like she wasn't my baby and tried to take it in. And all I can remember of these moments is her face. I will never forget my daughter in my arms, opening her eyes over and over…she locked eyes with mine and stared…bore holes into my soul. Love me. Love me. I'm not what you expected, but oh, please love me."
Nella's story (one that you MUST read) is one that's familiar for many families — families that are impacted by a child with a birth defect. In fact, about 120,000 babies, or 1 in 33, in the U.S. are born each year with a birth defect (an abnormality in structure, function, or body chemistry that results in disability or death). What's more, birth defects are the number one cause of death in a baby's first year of life.
January is National Birth Defects Prevention Month. The 2012 theme, determined by the National Birth Defects Prevention Network, is "And the Beat Goes On…Looking to the Future for Healthy Hearts." This year's theme reflects the fact that heart defects are the most common types of birth defects. Of course, birth defects aren't limited to heart-related issues; the spectrum of birth defects is wide.
Birth defects can be as varied and unique as the children who have them, but four particular types top the list of the most common.
Heart defects rank as the most common type of birth defect, affecting as many as 1 in 100 babies born in the U.S. In addition, heart defects are the leading cause of birth defect-related deaths among infants.
Cleft lip/palate is the second most common type, affecting about 1 in 700 babies.
Down Syndrome, a chromosomal defect, affects approximately 1 in 800 babies born in the U.S.
Spina bifida, a defect in which the spine fails to close properly during fetal development, affects about 1 in 2,500 babies.
One of the first questions people ask when considering birth defects is, "What causes them?" Unfortunately, the answer is far from simple. Birth defects are often the result of a combination of factors, and approximately 70% of birth defects have unknown causes.
Genetic factors are one known cause of birth defects. Genetic causes can include single-gene mutations (in which one or both parents passes a faulty gene to their baby.) Genetic factors can also include chromosomal abnormalities, meaning an error in the number or structure of a particular chromosome is to blame for the birth defect.
Environmental factors can also contribute to birth defects. Any environmental substance that causes birth defects is referred to as a "teratogen". Common teratogens include alcohol and drugs (both illegal and prescription). Obviously, pregnant women should avoid taking illegal drugs, but it can be harder for expectant moms to determine which prescription drugs are safe. For example, a number of anti-depressants, which were formerly considered safe for pregnant women, have been linked to birth defects. So has the acne-fighting drug Accutane.
A combination of genetic and environmental factors may cause birth defects, too. In these cases, a baby's genetic makeup makes him more likely to have a particular birth defect if he's exposed to certain environmental substances, like alcohol or cigarette smoke. Cleft lip/palate, neural tube defects like spina bifida, and heart defects are considered to be caused by a combination of factors.
Certain types of infections in pregnant women can also cause birth defects. Infections include rubella, toxoplasmosis, cytomegalovirus (CMV), syphilis, and (very rarely) chickenpox.
Many birth defects cannot be prevented; however, there are steps every woman can take to lower the risk of birth defects for her baby.
Taking 400 micrograms of folic acid, both before conceiving and during pregnancy, is the easiest and most effective step you can take to prevent birth defects. This has been shown to dramatically decrease rates of anencephaly and spina bifida, two defects related to a baby's brain and spine.
Pregnant women should avoid alcohol and cigarette smoke. Drinking alcohol while pregnant increases a baby's chances of being born with FASD (Fetal Alcohol Spectrum Disorder) and smoking while pregnant increases a baby's chances for cleft lip/palate.
Pregnant women should never use illegal "street" drugs: these have been linked to an large number of serious birth defects in babies, including defects of the heart.
If you're pregnant, talk to a health care provider about the medications you're currently taking. Never stop taking your medications abruptly; this can actually do more harm than good. Instead, discuss all of your medications with your doctor to determine if they're safe to take while pregnant.
Prevent infections during pregnancy by using proper hygiene techniques as well as common sense.
Maintain a healthy weight, since obesity in pregnant women increases the risks for several serious types of birth defects, including spina bifida, cleft lip/palate, and heart defects.
Birth defects are a heartbreaking topic to discuss, but it's an important discussion to have. Through conversations like these, people receive the education they need to prevent, understand, and treat birth defects.
And of course, it's not a conversation without hope. Far from it. A birth defect is rarely a death sentence. Sometimes, it turns out to be the most unexpected kind of blessing. Kelle Hampton and her daughter Nella are proof of that. Nella's Down Syndrome ended the story that Kelle had been imagining for her daughter, but it marked the beginning of a bigger, more beautiful story than she could've ever envisioned.
As Kelle eloquently puts it, "Life moves on. And there have been lots of tears since. There will be. But, there is us. Our Family. We will embrace this beauty and make something of it. We will hold our precious gift and know that we are lucky. I feel lucky. I feel privileged. I feel there is a story so beautiful in store…and we get to live it. Wow."